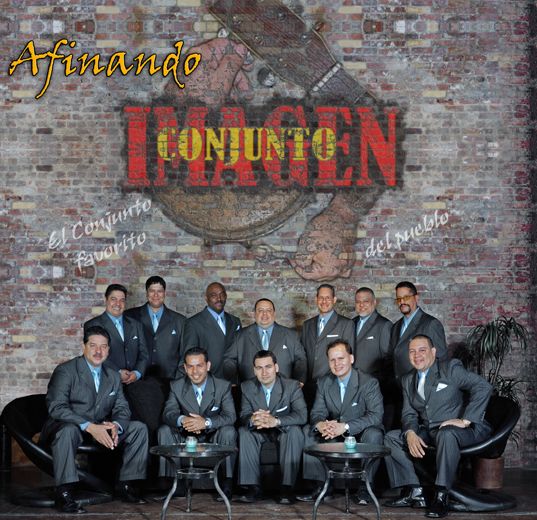 Conjunto Imagen fue fundado en 1989 por líderes de grupo musical Ernie Acevedo y Jr. Rivera . Angelo Gonzalez se unió  como Director Musical en 1990. Ellos desde que grabaron con  Twelve productions. Tres de ésos se produjeron bajo J & N los Registros marcan permitido "Tumba,
Bongo de Tres Y", "Te Invita a Bailar" y "Mi Rumba ". Las próximas seis producciones se registraron bajo los Registros de Platano y Universal Records permitido "Algo Nuevo", "Por Amor a Ti", "Encuentro Especial", "Imagen 97", y "Entrando al Milenio" Contra la Fuerza y una Navidad CD, "Navidades con Imagen" (que representa Jose Fajardo & Yomo Toro).
La última producción "Ayer, Hoy Y Mañana" es liberado abajo su etiqueta sin precedentes muy propia Muziq, Inc. Records con los talentos vocales de Jesús Serrano y Eddie Rosado. Conjunto Imagen en el 2008 Registras marcan Permitdo "Afinando" con una nueva sección de Vocales de Eddie Rosado,
Johnny Ortiz Y Alex Rodriguez unos talento vibrante.
Aquí está una revisión breve de la historia del desempeño de Conjunto Imagen:
Conjunto Imagen participado como el grupo de grabación para los artista siguientes:
Charlie Cruz &; Fonzi Cruz, Hector Casanova, Nayobe y Ralphy Santi
Los conciertos & otros desempeños: La Mansión de Gracie (bajo la administración de Alcalde
Gulliani), Lincoln center, Plaza de World Trade Center, Windows of the world, El Rainbow Room, Fox
Wood, Atlántic city, Zanzibar en Washinton D.C., South street seaport, Action Park, Gran Aventuras,
Orchid Beach, el Parque prospect, realizado para el Hearst (las Publicaciones de Hearst.) la familia
Las presentaciones adicionales: Ell River bank park, las Fiestas de la Calle de la Ciudad de Nueva
York, 116 Fiesta de la Calle, el Desfile borinqueño Catskills, Ontario Canadá, Puerto Rico,
Pennsylvania, Boston Ma., Washington D.C., Virginia & entre otros
Las presentaciones de club: El Copacabana, Latín Quarter, Broadway II, El Paladium, Club Side street,
El Tapestry, Chez Sensual, Les Poule, La Maganette, Sweet Water, El Club del Círculo, Ilusións,
Juan Pachanga, 30/30, Wild Palm, Café Remy, Jimmy Bronx Cafe, La Havana Village, El Flamigo, El
Club Rios, Pastel club, El Turquios, Club Babalu,, T.J. Bentley's, Westgate lounge en Nyack
Conjunto Imagen a tenido el placer de invitar en el escenario artistas como: Dave Valentino,
Hector Tricoche, Miles Pena, Azuquita, Jimmy Bosh, Chocolate, Eddie Zervigon, Jose Fajardo,
Gilberto Santa Rosa, Chino Nuñez, Frankie Vasquez, Hector Casanova, Luis Damon, Frankie
Morales, los Hermanos Moreno, Angelo Vallante Frankie Lebron, y más
Las presentaciones de la televisión: Good day NY, Univision (El show de Medio Dia & a Despertar),
Telemundo (Primera Edición), Salsa en la calle.
Los videos de la música de Conjunto Imagen: Mario Rumba,Esa Mujer, Regressa un M, La
Moneda, Ay! cosita Linda, Tremendo Problema y también un DVD que viene pronto Vivo en concierto
Conjunto Imagen – Que buenas son las mujeres