LOS HERMANOS COLÓN
Publicado el 29 de septiembre de 2010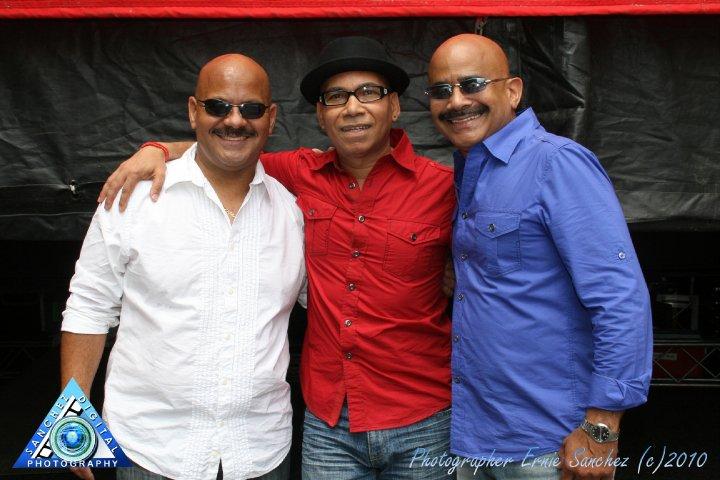 LOS HERMANOS COLÓN SE HAN CONVERTIDO EN LA SENSACIÓN DE EL MUNDO DE LA SALSA, EL GRUPO ESTA COMPUESTO POR TRES HERMANOS: MARCOS, HERMAN Y FREDDY COLÓN, MARCOS NACIÓ EN PUERTO RICO, HERMAN Y FREDDY NACIERON EN NUEVA YORK, LOS HERMANOS COLÓN TAMBIÉN CONOCIDOS COMO THE COLÓN BROTHERS CRECIERON EN *EL BARRIO*R ODEADOS POR INFLUENCIAS MÚSICALES DESDE MUY PEQUEÑOS, SU PADRE FUÉ EL LÍDER DE UNA BANDA MUY POPULAR DE SALSA LLAMADA *LA SONORA CASINO* Y SU MADRE UNA CANTANTE DE MÚSICA JÍBARA, LA UNIÓN DE ESTA FAMILIA DE MÚSICOS SE REFLEJA EN LA CALIDAD Y SINCERIDAD QUE GENERA SU MÚSICA.
HERMAN COLÓN Y SU SEXTETO EMPEZARÓN A TOCAR EN LOS  70'S INFLUENCIADOS POR FAMOSOS ARTISTAS LATINOS COMO:  WILLY COLÓN, JOE CUBA, HARVY AVERNE Y JOE BATAN. EL BONGOSERO FREDDY COLÓN SE UNIÓ AL SEXTETO DE SU HERMANO EL PERCUSIONISTA HERMAN COLÓN Y SU SEXTETO CONTINÚO TOCANDO POR 6 AÑOS MÁS Y LUEGO SE CONVIRTIO EN  *LA CONSTITUCIÓN* . ANTES DE QUE MARCOS SE  UNIERA  A SUS HERMANOS FUÉ PARTE DE UN DINÁMICO DÚO LLAMADO *CASSIDY* ESTE DÚO TOCABA EN RECONOCIDOS NIGHT CLUBS COMO *THE OTHER END* THE BITTER END* Y *HOME* MARCOS MODELÓ PROFESIONALMENTE PARA LA REVISTA *EBONY MAN* TAMBIÉN HIZO COMERCIALES DE TELEVISIÓN PARA *ISOTONER GLOVES* CON CHRISTIE BRINKLEY Y BEVERLY JOHNSON.
DURANTE LOS 80'S EL GRUPO DISFRUTO DE POPULARIDAD EN NIGHT CLUBS Y EN EVENTOS PUERTORIQUEÑOS, TAMBIÉN RESPALDARON MUSICALMENTE  A CANTANTES DE LA ISLA COMO TITO ROJAS, PAQUITO GUZMÁN Y MILAGROS  *LA LOBA* HERNÁDEZ.
AHORA CONOCIDOS COMO LOS HERMANOS COLÓN LOS 90'S LES TRAJO SU PRIMERA PRODUCCIÓN DISCOGRÁFICA BAJO EL SELLO MAMBOLERO PRODUCIDO POR SERGIO GEORGE *AMAME UN POCO MÁS* CON CANCIONES COMO *DE DOCE A TRES* RECIBIERON RECONOCIMIENTO EN LA RADIO Y EN NIGHT CLUBS. SU SEGUNDA PRODUCCIÓN *NATURAL*  INCLUYE CANCIONES EN INGLES Y ESPAÑOL BAJO LA PRODUCCIÓN Y ARREGLOS DE SERGIO GEORGE Y RENE LEYVA ESTA PRODUCCIÓN LES DIO RECONOCIMENTO INTERNACIONAL CON LAS CANCIONES * TODA MIA* Y *CON QUE DERECHO* SU TERCERA PRODUCCIÓN  *LOS HOMBRES NO DEBEN LLORAN*  BAJO EL SELLO J&N RECORDS/SONY DIST.  CON CANCIONES COMO *LA MEDIA VUELTA* CON UN SABOR MEJÍCANO* Y *YO SOY BORICUA* CON UN TOQUE DEL FOLKLORE PUERTORIQUEÑO LES DIO MUCHA POPULARIDAD CON LATINOS DE SU MISMA CULTURA PUERTORIQUEÑA Y DE LAS DIFERENTES CULTURAS LATINOAMERICANAS EN NUEVA YORK.
EN LA PLAYA DE ORCHARD BEACH BX, NY LES DIERON EL NOMBRE DE  *LOS HIJOS DE LA PLAYA* A PETICIÓN POPULAR. CON SU CUARTA PRODUCCIÓN Y PRIMERA BAJO SU PROPIO SELLO LHC RECORDS*ABRIENDO NUEVOS CAMINOS* Y CON LA CANCIÓN *YO SOY LATINO* SE GANARON EL CORAZÓN DE SU PUBLICO LATINOAMERICANO.
PARA SU QUINTA PRODUCCIÓN LOS HERMANOS REUNIERON UN GRUPO DE COMPOSITORES DE HERENCIA HISPANA Y ANGLOSAJONA PARA CREAR SU OBRA MAESTRA  *ENGLISH/SALSA GREATEST HITS* CON CANCIONES COMO * THROUGH THE YEARS* Y * MAMA*  UNA BELLA CANCIÓN ESCRITA POR MARCOS COLÓN Y DEDICADA POR LOS HERMANOS A SU YA FALLECIDA MADRE JUANITA VAZQUEZ.  ATRAVEZ DE LOS AÑOS LOS HERMANOS COLÓN HAN RECIBIDO MUCHOS RECONOCIMIENTOS Y UNA GRAN ACCEPTACIÓN DE LA PRENSA AMERICANA Y LATINOAMERICANA, OTRO DE SUS LOGROS FUÉ HABER SIDO SELECCIONADOS PARA CANTAR LA CANCIÓN DEL TEMA DE LA PELÍCULA AMERICANA  *THE GIRL IN THE WATERMELON*  LOS HERMANOS COLÓN NO SOLO SON ARTISTAS SI NO TAMBIÉN JEFES DE FAMILIA Y LÍDERES DE LA COMUNIDAD DEDICADOS AL PROGRESO DE LA COMUNIDAD LATINOAMERICANA
La mujer que yo amo – Los Hermanos Colón