Steve Guasch y Su Orquesta Nueva Era – Siguiendo La Tradicion
Publicado el 10 de octubre de 2010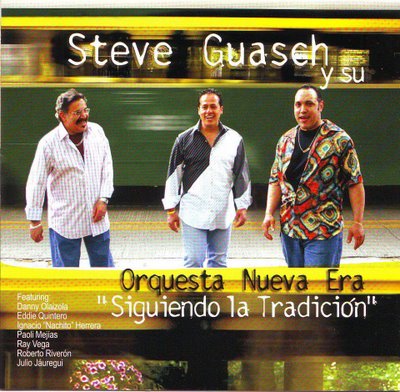 STEVE GUASCH Y SU ORQUESTA NUEVA ERA
"SIGUIENDO LA TRADICION"
(P.RICO-N. YORK, 2006) @
"Siguiendo la tradición" es un gran comienzo para el 2006. Lleno de la mejor salsa nuyorican, y con una exploisiva mezcla de latin y mambos, aqui te encuentras frente a un gran disco. Muy bien grabado y mezclado, con algún tema muy emotivo para los boricuas, este disco es un "dance floor classic" inmediato. Temas a medio tiempo, como el que abre el disco (Aquí te traigo sabrosura) o un espectacular Velveeta, una increible pieza del latin mas bailable, lo convierten en un "must-have" para todo DJ salsero o aficionado al baile.
"Siguiendo la Tradición", este título sin duda se refleja a través de todas las canciones. El CD Esta lleno de ritmo, energía, sabor y sobre todo cadencia musical.
Guasch, un timbalero nativo de Bayamón, Puerto Rico, ha reunido a un versátil y muy experimentado grupo de músicos en este CD mayormente instrumental, Siguiendo La Tradición. Es Jazz Latino del bueno, pero ellos también han incluido algunas melodías de salsa muy bailables.
En Velveeta, el artista invitado Ignacio "Nachito" Herrera nos brinda una bella y movida introducción de piano, para luego dar riendas sueltas a los metales en este Jazz Latino. Presten atención a esas fuertes e insinuantes trompeta y saxo, tocados por Randy Lintott y Ted Dortch, seguidos por los explosivos timbales de Gausch.
El renombrado trompetista Ray Vega realiza un solo magistral de fliscornio en South of the Boulevard, que es a la vez suave, ligero y melodioso, y una joya para escuchar. "Nachito" Herrera se le une una vez más con su mágico piano, y Paoli Mejías completa el arreglo con congas y timbales.
Mi Lindo Puerto Rico, una de las 4 melodías de Salsa en el CD, se ha convertido rápidamente en la última adición a mi colección de "hacerme-sentir-bien" himnos a mi adorada patria adoptiva. Cantado desde el fondo del corazón con una pura y melódica voz de salsa por Danny Olaizola, esta sencilla y original canción está llena de alma boricua (Puerto Rican soul). Comienza con buena y tradicional salsa al estilo del Gran Combo, y luego cambia a seis, completo con un celestial cuatro puertorriqueño, tocado por Luis de Jesús. Cada vez que toco esta canción (que es a menudo), no puedo esperar oir a Will Martin jazzeándola hasta las alturas con su solo de trombón, tan divertido.
Canciones:

1. Aquí te traigo sabrosura
2. My Favorite Things
3. Me muero por mirarte
4. Charlie the Giant
5. Velveeta
6. Mi lindo Puerto Rico
7. South of the Boulevard
8. Haciendo camino
9. Búsquenla
10. Solar
11. Softly (as in the morning Sunrise)
Musicians / Músicos:Lead vocals – Eddie Quintero, Danny OlaizolaBack-up vocals – Steve Guasch, Julio Juaregüí, Eddie Quintero, Danny Olaizola, Luís de JesúsCuatro Puertorriqueño & Guitarra – Luís de JesúsPiano – Julio Juaregüí, Ignacio "Nachito" HerreraBass – Andy Zadrosny, Roberto Riverón, Julio JuaregüíCongas – Paoli Mejías, Steve GuaschTimbales – Steve Guasch, Paoli Mejías, Junior MedinaBongos – Steve GuaschMaracas – Steve GuaschGuiro – Rafael QuiñonesShequere – Paoli MejíasTrumpet – Randy Lintott, Ted Bowden, Ray Vega, Thomas Marriott, Jay RoulstonTrombone – Will Martin, Dan Marcus, Scott Babcock, Dave MarriottBaritone, Alto & Tenor Sax – Ted Dortch
Extraído de: http://bosquesonoro.blogspot.com
Velveeta – Steve Guasch y Su Orquesta Nueva Era