Tribute to César "Pupy" Pedroso
Tribute to César "Pupy" Pedroso
Friday, 8/12 @ 11 pm EST
Celebrating the life of Cuban legend, "Pupy" Pedroso, join the Pupy y Los que Son, Son band at S.O.B.'s in NYC on August 12th!
His name is César de las Mercedes Pedroso Fernández but everyone knows him by "Pupy." Composer, writer, arranger, pianist and director, he was born on September 24, 1946 in La Timba, Havana City.
In June 1964, at the age of 22, he joined the "Fascinación" orchestra and years later, at the request of Elio Revé himself, he joined the Charangón as a pianist. During those years, when he was then the musical director of said group, he met Juan Formell and that is how one day they both embarked on the path of songo and formed Los Van Van.
Cesar "Pupy" Pedroso had already secured his place in Cuban musical history as pianist, arranger and composer for the Van Van for 32 years, a period in which he produced many hit songs for this famous orchestra. Without a doubt, having worked together with Elio Revé and Juan Formell represented an important school for his training.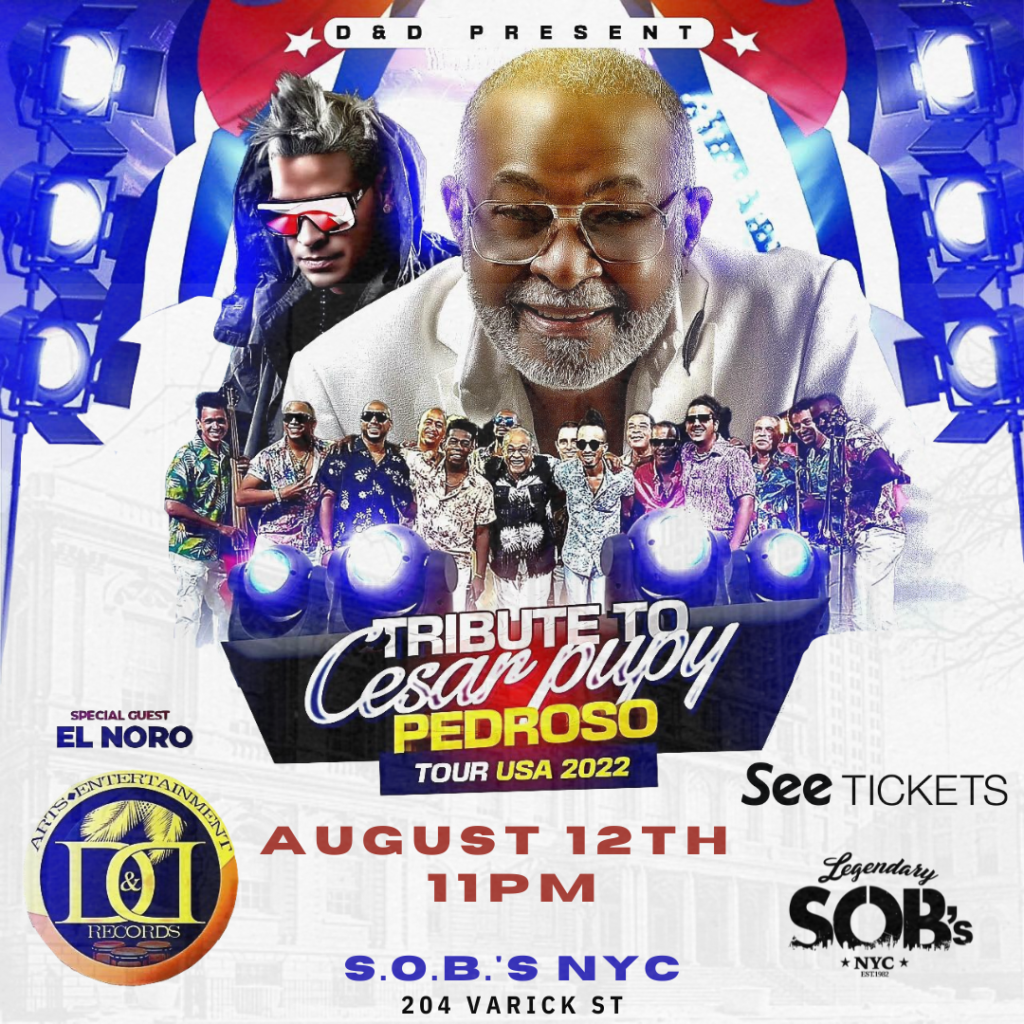 Pupy won the 1999 GRAMMY Award for his participation in the CD "Permiso Came Van Van" which includes three songs composed and arranged by him. He also participated in important record recordings, especially in recent years that have made him transcend beyond our borders, such is the case of "Fruta Prohibida" by Caribe Productions (1995), later titled "Lo mejor de César Pedroso" and which recorded QBADISC Inc., which was the first album that this record company made as a tribute to a living composer.
But for someone who was a tireless seeker of new ideas and a constant composer, all this was not enough. Thus he assumed the challenge of creating his own group "Those who are, are."Pupy said, "I decided on that name because it is a way of expressing that they are what they have to be and at the same time to recognize who they are, at the same time as they are as a musical genre where my musical roots come from."
With his own style that characterized him and in the fullness of his creative maturity, César Pedroso decided to create his own orchestra: "Pupy y los que Son Son," a project that has filled the dance halls of Havana, and that many they call "the orchestra of the moment."


Compartir en Facebook